The Best Samsung Galaxy S20 Plus Case: Ultimate Protection and Style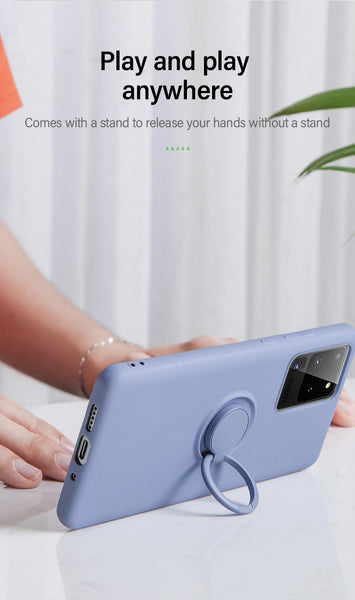 When it comes to safeguarding your valuable Samsung Galaxy S20 Plus, choosing the right case is paramount. Discover the perfect blend of protection and style with our selection of Samsung Galaxy S20 Plus cases. Our featured case not only ensures top-notch defense but also offers convenient features that elevate your smartphone experience.
Compatible Phone Model: Customized Protection
Our new liquid silicone phone case cover is made of eco-friendly materials, it is smooth to the touch, fingerprint resistant and shockproof. Effectively cushions the impact of drops. Many selective colors available. Tailored for the Samsung Model: Galaxy S20/ Galaxy S20+/Galaxy S20 Ultra/ Galaxy Note 10/Galaxy Note10+/Galaxy Note 20/Galaxy Note 20 Ultra. Soft Liquid Silicone Cover For Samsung Galaxy S20, S20 Plus, Note 10, Note 10 Plus, Note 20, Note 20 Ultra etc.  Non-SLIP liquid silicone bumper provides strong protection for your Samsung Galaxy S20+ Plus / 5G 6.7" (2020) against shocks, drops, impacts, scratches or dusts. Keeping your precious phone safe and secure on a daily basis. It comes with a built-in 360° rotatable ring holder, flexible kickstand, and magnetic car mount support, adding versatility to your device handling.
Slim & Smooth Design: Fashionable Practicality
Tired of bulky cases? Our black case offers a slim profile that fits your Samsung Galaxy S20+ Plus like a glove. Lightweight and sleek, it provides robust protection without adding unnecessary bulk. This case seamlessly combines style and practicality.
Premium Material: Protection at Its Finest
Crafted with a non-slip liquid silicone bumper, our case offers a sturdy shield against shocks, drops, impacts, scratches, and dust. Your Samsung Galaxy S20+ Plus is kept safe and secure in every aspect of daily use.
Considerate Cutouts and Tactile Buttons: User-Centric Design
Enjoy effortless access to all functions through accurate and precise ports. The tactile button covers offer a responsive touch experience. Comfortable to grip, our case enhances the usability of your Samsung Galaxy S20+ Plus.
Easy to Install and User-Friendly: Durability Meets Convenience
Crafted with creative design and exquisite craftsmanship, this shockproof case is both rugged and user-friendly. Its easy installation and removal process ensures your phone's safety from unexpected drops and shocks.
Product Recommendation from Hallobest:
Check out the Ultra-Thin Silicone Magnetic Holder Phone Case Stand Ring Bracket Cover for Samsung Galaxy S20, S10, S10e, S9, S8, Note 10, and Note 9. This case not only ensures protection but also adds a magnetic holder and ring bracket, enhancing your phone's functionality.

Selecting the best case for your Samsung Galaxy S20 Plus is more than just protection; it's a statement of your style and care for your device. Elevate your smartphone experience with the perfect case that marries security and sophistication.